Johnny Riott has been playing with The Erotics for over 17 years. Using his unique self-taught style and perspective, he has defined the quintessential rhythmic backbone of the New York sleaze rock stalwarts; Providing strong groove-oriented rhythms and kit dynamics to add character and definition to the band's hook laden songs.
In his time with The Erotics, the band has recorded 9 critically acclaimed albums, been featured on soundtracks for several movies, including SyFy's Super Shark, and played countless shows across the US and Europe, all helping cement the band's unpredictable and undeniable notoriety.
The Erotics' latest release, 'The Songs Remain Deranged' (2019) is the first to feature GIO Cymbals.
"I like to hit hard and don't pull punches when it comes to cymbals, especially live where the visual dynamics are as important and the audio. After YEARS of searching the right cymbals, ones that can stand up to heavy punishment night after night, yet still sound crisp, bright, and dynamic, I have finally found them: GIO Cymbals. Simply the best." – RIOTT
GIO Cymbals
• 14″ Definitive Hi Hats

• 19″ Definitive Crash
• 20″ Definitive Crash
• 14″ Definitive China
…
• 22″ Definitive Ride

The Rest
Mapex MyDentity in Birch
• 13″ x 13″ Rack Tom
• 15″ x 15″ Floor Tom
• 16″ x 16″ Floor Tom
• 20″ x 20″ Kick (x2)
Snare
• 14″ x 6″ Custom Bell Brass
Hardware
• Pearl Demon Drive (direct drive)
• Pearl Rack System
• Yamaha Stands
---
Tracking drums for 'THE ANGEL, THE DEVIL, & ME' featuring GIO Cymbals. From the forth coming album 'The Songs Remain Deranged'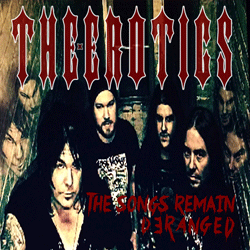 ---
The Erotics at HRH Sleaze II, O2 Academy in Sheffield UK
---
---